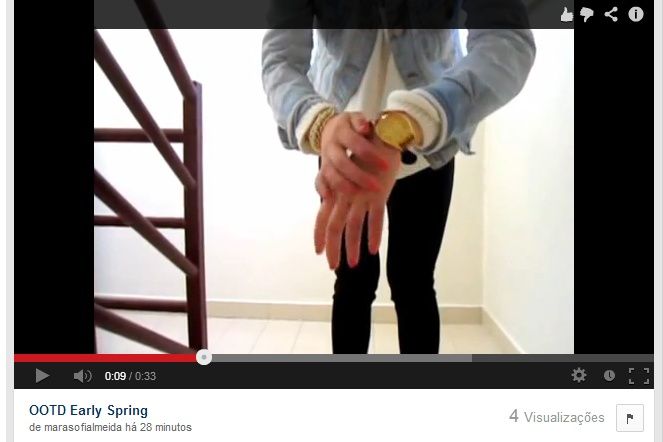 Shirt
Bershka
Jumper
Stradivarius
Jeans
Bershka
Bracelet
Stradivarius
Watch
Casio
Boots
Seaside
Denim Jacket
Bershka
Good morning girls! Today I have an outfit of the day video for you! I wanted to do something different this time and I though an OOTD video would be a good idea. Thumbs up if you would like to see more videos like this!
I hope I can take some time during spring break to film new videos for my
youtube channel
so if you have any video idea you would like me to do feel free to leave it on the comments.
And don't forget to subscribe for more videos!
Have a nice saturday!
♥
♥
♥
Bom dia! Hoje em vez de um post normal decidi fazer algo diferente e trazer-vos um video do meu outfit de ontem. Infelizmente, o sol já se foi e a minha vontade de regressar aos outfits coloridos como tinha planeado está bem próxima de ser nula. De qualquer forma, achei que seria uma boa ideia filmar um dos primeiros conjuntos primaveris que usei este ano e thumbs up se quiserem ver mais vídeos deste género!
Espero, durante as férias, conseguir tirar algum tempo para filmar vídeos para
o meu canal
por isso se tiverem alguma ideia de um vídeo que gostassem de ver deixem a sugestão nos comentários.
E não se esqueçam de subscrever! Espero que tenham um ótimo sábado!
formspring
•
twitter
• flickr
• lookbook
• youtube
• bloglovin