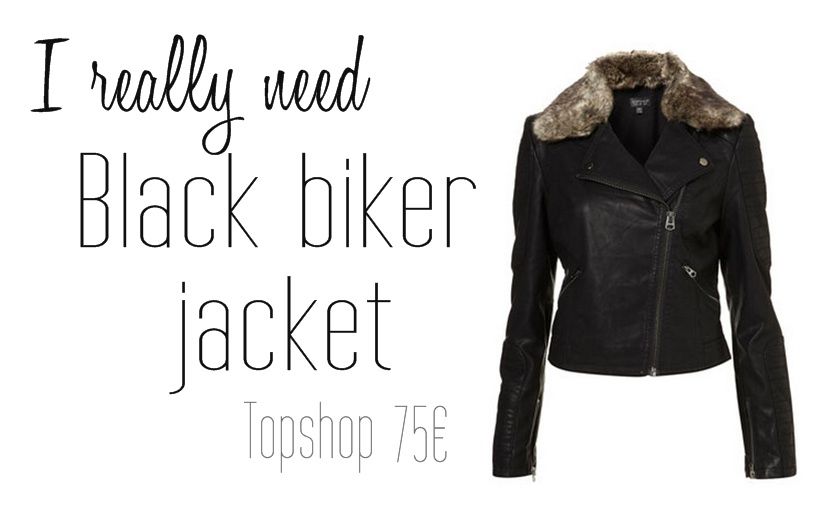 As much as I keep hearing everyone telling me that I own to much clothes and that I don't need to buy any piece of clothing for the next 100 years I can always think of something that's missing on my wardrobe. Last sunday while I was shopping in the sales I realized there was a essential piece that I couldn't find in my closet: a black biker jacket. I have absolutely no idea how have I been able to survive through 17 years of existence without that staple piece and the more I think about it the more I realize I really need one.
After a lot of thought I decided I'd take advantage of the winter sales and I'd go on a hunt for the perfect jacket.
Wish me luck!
Now I just can't stop creating outfits on my mind featuring my soon new leather jacket and I couldn't help putting together this two outfits to show you. I chose
this jacket from Topshop
which I'm absolutely in love with.
What's your favourite?
♥
♥
♥
Apesar de ouvir constantemente que tenho toneladas de roupa e que estou fornecida para os próximos 100 anos consigo sempre lembrar-me de qualquer peça que falte no meu armário. No domingo, enquanto tentava comprar roupa nos saldos percebi que há algo essencial que nunca foi visto nem achado no meu roupeiro: um casaco de cabedal preto. Sinceramente, agora que penso nisso, não consigo entender como fui capaz de sobreviver 17 anos sem uma das peças mais essenciais de um guarda roupa de inverno e quanto mais penso, mais percebo que preciso mesmo de um. Por isso vou aproveitar os saldos para ir em busca do casaco perfeito.
Whish me luck!
Agora claro parece que a única coisa que consigo produzir na minha mente são conjuntos em que entra
esse
casaco e recriei dois deles para vos mostrar. Utilizei
este casaco da Topshop
pelo qual estou apaixonada!
Qual é o vosso preferido?
formspring
•
twitter
• flickr
• lookbook